I created this quick and easy Cilantro Lime Slaw for Shrimp and Fish Tacos.  It's super quick and easy because of the Angel Hair Coleslaw mix.  I found this mix to be the best because the flavor of the dressing is not diluted and aborbed as much.  This is a quick recipe if you have a food processor, Blender, or Bullet.  I like it zesty with 2 Roasted Jalepenos, but you can ommit these if your taste buds are pansies.
Ingredients:
1 Package of angel hair Coleslaw Mix
1 cup of Greek Yogurt
1 cup chopped fresh cilantro
1 Pack of Chopped Green Onions (Chopped)
1/4 cup fresh lime juice
1 tablespoon honey
1 tablespoon olive oil
2 cloves of Garlic (Chopped)
2 Roasted (Chopped) Jalepenos - 1 if you don't like spicy
Salt and pepper to taste
Instructions:
Roast and Chop the Jalepenos.
Chop the Green Onions.
In a food processor add Greek Yogurt, Cilantro, green onions, Honey, Olive Oil, Lime Juice, Garlic and Jalepenos. Pulse for 15 timed.
In a large bowl, pour the mixture from the food processor over the Angel Hair Coleslaw Mix. Toss them together to mix well.
Let the slaw sit for at least 15 minutes to allow the flavors to meld together. You can also refrigerate it for a couple of hours to let it chill and develop the flavors further.
Give the slaw a final toss before serving. You can garnish it with additional cilantro leaves if desired.
Serve the Cilantro Lime Slaw as a side dish with grilled meats, tacos, sandwiches, or as a topping for fish or shrimp tacos.
Enjoy your refreshing and zesty Cilantro Lime Slaw!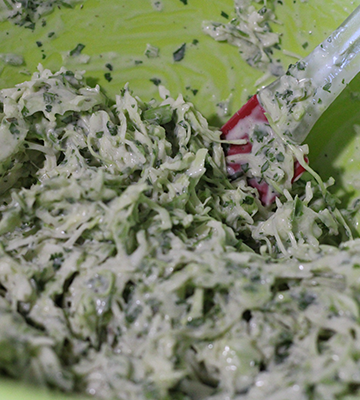 These are Recipes are from Patrick Handy's simple taste buds.  I'm a simple man that enjoys comfort foods.  Foods are labeled comfort for a reason, now let's open a beer and sit down by the fire to have deep chats about the universe.